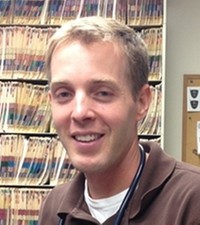 Doctor
Dr. Carey Goehle graduated from the University of Kentucky in 1995 with a bachelor's degree in Biotechnology. In 1999, he received his Doctorate of Veterinary Medicine from the Auburn University. Sharing a love for both large and small animals, he elected to pursue a career in small animal veterinary medicine.
Dr. Goehle has been a member of the Dunkirk Animal Hospital professional staff since 1999. Although he enjoys all aspects of veterinary medicine, Dr. Goehle takes a special interest in both orthopedic and soft tissue surgery.
In his free time, Dr. Goehle enjoys jogging and spending time with his wife, five children and their Pomeranian, Annabelle.